Vuga William Liwa, the Executive Director of The Youth Empowerment Foundation (YEF), recently embarked on a transformative journey to Berlin. His participation in the renowned re:publica event at Arena Berlin and Festsaal Kreuzberg offered him a platform to share his innovative work. During the event, Vuga presented at the makerspace, where he discussed the ground breaking #ROSHOP Responsive Open Source Modular Housing Prototype. His trip culminated with a significant meeting with Robert Habeck, the second governing coalition member, head of the Green Party, and Minister of Economic Affairs, Climate Action and Vice chancellor of Germany.
#ROSHOP: Addressing Housing Challenges:
The #ROSHOP project aims to revolutionize housing in complex post-conflict and politically unstable environments, catering specifically to the needs of refugees, internally displaced persons (IDPs), and resource-scarce communities. By integrating media and digital culture, this pioneering initiative introduces modular housing prototypes that respond to the unique challenges faced by these marginalized populations. Initially developed at the Pagirinya Refugee Settlement, the project directly addresses urgent community housing needs.
Key Elements of #ROSHOP:
The success of the #ROSHOP prototype rests on two crucial elements: Experimentation with Local Building Innovation: The project focuses on improving and developing climate-responsive construction methodologies. It emphasizes techniques that enhance air circulation, maximize natural lighting within the structures, and promote the integration of rainwater harvesting and solar power. For instance, the use of sustainable "rammed earth" technology for building walls replaces traditional but environmentally harmful burnt bricks.
Collaborative Open Source Approach: #ROSHOP adopts a co-creation and innovation architecture that leverages physical and virtual interactions. The entire process, methodologies, and experiences are documented using collaborative open source tools like GitHub. This enables communities facing similar circumstances to replicate, adapt, and further develop the initial prototype. It also empowers teams involved in building the prototypes with valuable media and digital skills, fostering global connections and expertise exchange to create efficient building typologies in challenging environments.
The Fusion of Media and Architecture:
To bridge media and architecture, #ROSHOP incorporates familiar aesthetic components from local traditions and contexts. These elements are combined with innovative solutions to enhance functionality and create visually appealing structures. Circular modules inspired by traditional tukul forms can be combined with square-shaped elements to accommodate various activities. The roof constructions, utilizing locally available materials, are designed to allow ample natural light into the spaces, thereby creating more comfortable environments suitable for small schools or community gatherings. The project's media aspect focuses on creating compelling digital documentation that transcends complex technical jargon, making the methodologies accessible even in low-literacy environments and across language barriers.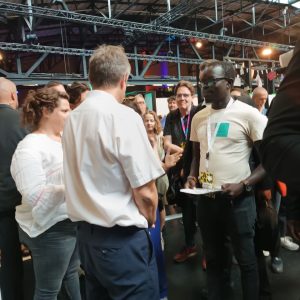 Meeting with Robert Habeck: A Moment of Significance:
On the final day of the re:publica event, Vuga had the privilege of meeting with Robert Habeck, Vice-chancellor and Minister of Economic Affairs and Climate Action. This notable encounter provided an opportunity to discuss the #ROSHOP initiative in the context of the pressing global challenges related to cash, climate action, and economic empowerment. Such engagement with a high-ranking political figure promises to garner support and recognition for the project, amplifying its impact and opening doors for future collaborations.
Vuga William Liwa's trip to Berlin for re:publica was a remarkable journey filled with knowledge-sharing and impactful interactions. His presentation at the maker space shed light on the innovative #ROSHOP Responsive Open Source Modular Housing Prototype, while meeting with Robert Habeck reinforced the project's potential to address urgent housing needs and contribute to sustainable economic development in vulnerable communities. By merging media, architecture, and open-source methodologies, Vuga's work exemplifies a visionary approach to creating scalable and replicable housing solutions for post-conflict and politically unstable environments.